REPORT ON SOME RECENT LOCAL EVENTS
by Helen Rose

Stoke Goldington picnic dance
A fine afternoon ideal for a picnic, tables and chairs set outside, a good view, lots of others to chat to, unfortunately rain earlier made the grass unsuitable for dancing so that was in the hall. Music was played by Ian Robertson on the accordion. Rita Scott's childrens class performed a demonstration and joined in the dancing.

Leicester Branch Rutland dance weekend
A Friday and Saturday evening dance, workshops on Saturday and Sunday morning and farewell tea dance on Sunday. A mixed programme of Scottish, English, International and Playford tuition and dancing. We had a very enjoyable and sociable weekend. Camping and caravanning space was provided next to the village hall.

Cambridge Scottish Society
A well attended dance on the 22nd September in Girton. We enjoyed dancing to the music of Ian Robertson on his accordion. Shared refreshments.

NE Herts Reel Club, Hitchin Ball
This was held earlier than usual on the 29th September as the hall was not available on the normal date. A buffet supper was provided. Karl Sandeman and his band were on top form.

Cambridge RSCDS dance 20th October
A fairly easy programme with all dances talked through, a couple were walked through. We enjoyed dancing to Green Ginger. Refreshments were shared.
NOVEMBER SOCIAL
Sunday 25th November starting at 8.00pm
OAKLEY VILLAGE HALL
MC Helen Rose

There is no theme as such for the programme, however dances have been chosen from several specific areas:
Members request. In conversation with other Oakley dance regulars at Milton Keynes Stoke Goldington Picnic dance it transpired they would appreciate the opportunity to practise –

Mrs Stuart Linnell and Caddam Wood

RSCDS featured dances for this season –

Festival Fling and Bridge of Nairn

Dances we have been introduced to and enjoyed at other dances this season –

Karin's Strathspey - Leicester branch Rutland Dance weekend
Foxhill Court - NE Herts Reel Club, Hitchin Ball
Sands of Morar - RSCDS Cambridge branch dance

To continue I have selected one dance from –

Cambridge Scots Society dance - Wee Cooper of Fife
Our September Social - Duke of Perth

To reflect the international appeal of Scottish dancing –

Plantation Reel

All other dances are personal choices -

Ian Powrie - the first dance that committed itself to my memory.
Schiehallion - I know the dance and the reels, have made it to the top of the mountain, but need to practise the dance.
Muirland Willie - a long time ago I was dancing this at Ely Maltings (Cambridge Scots Society) when I realised I was actually enjoying myself, I had finally learned enough to be happy Scottish dancing.



PROGRAMME
| | | | |
| --- | --- | --- | --- |
| DUKE OF PERTH | R | IAN POWRIE'S FAREWELL TO AUCHTERARDER | J |
| THE DIAMOND JUBILEE | J | SANDS OF MORAR | S |
| THE BRIDGE OF NAIRN | S | SCHIEHALLION | M |
| CADDAM WOOD | R | WEE COOPER OF FIFE | J |
| MUIRLAND WILLIE | J | FOXHILL COURT | S |
| KARIN'S STRATHSPEY | S | FESTIVAL FLING | R |
| MRS STUART LINNELL | R | THE PLANTATION REEL | R |

Entrance: £1.50 members £2 others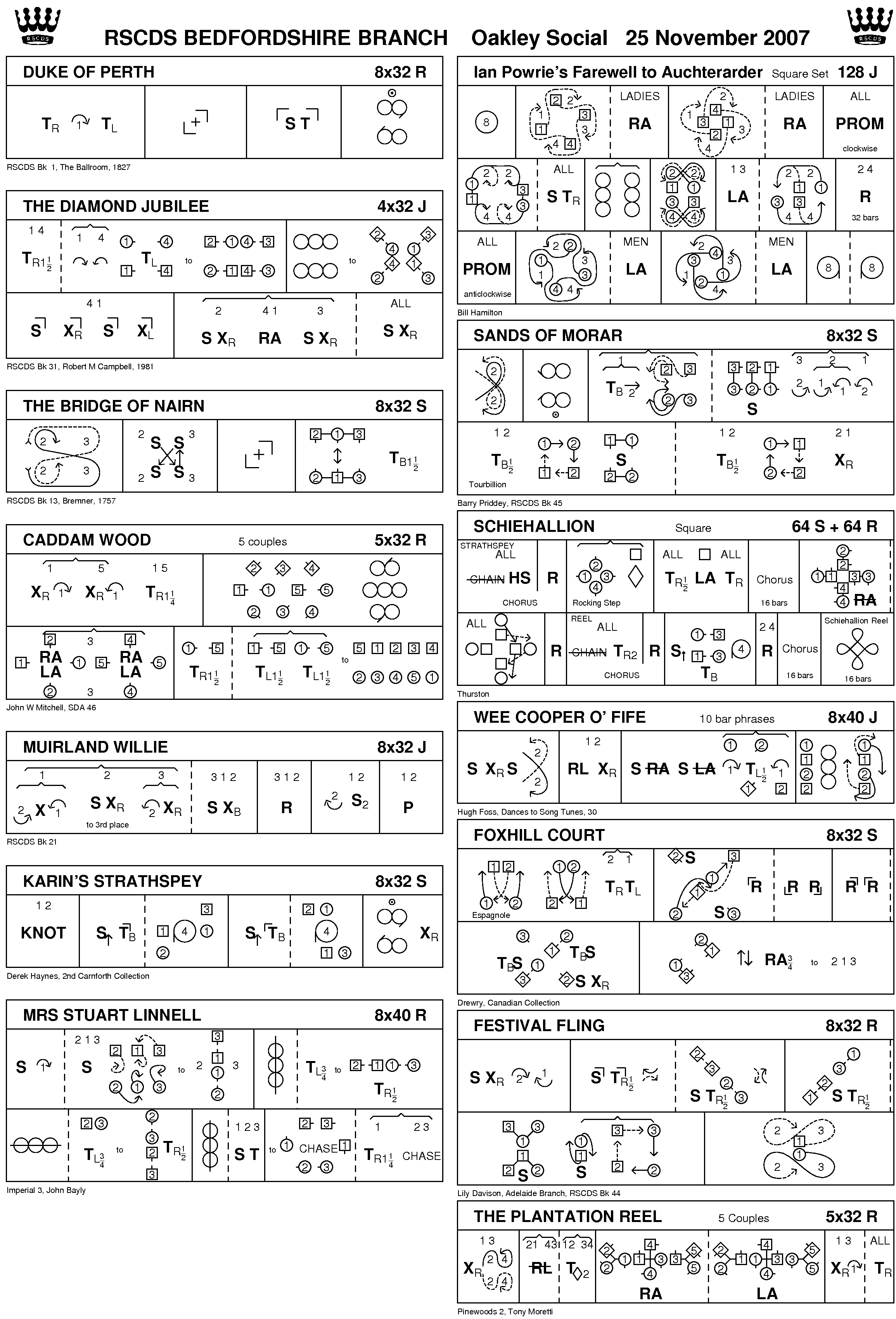 ---
Web pages on the Bedfordshire Branch site:
This page was created on 11 November 2007.