DANCE4ALL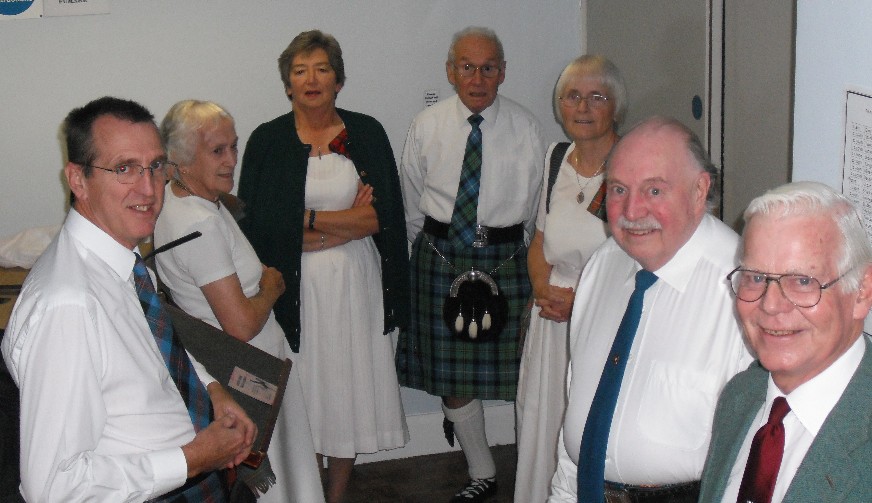 If you haven`t heard of this it was a day long event held in the Corn Exchange complex on 17th October and, as the name suggests, was a free for all of dance clubs and associations. Each one had an opportunity to display their own particular variety on the stage and to hold a taster session in one of the smaller halls for anyone to have a try.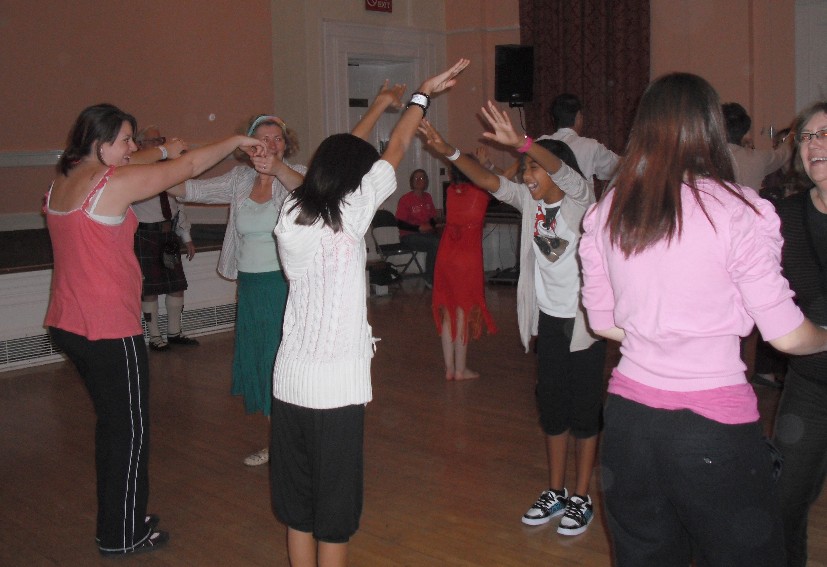 Our taster session was right at the end of the day but there were still plenty of people joining in. Some confessed to being a bit tired as they had been there all day and tried almost everything! They still had plenty of enthusiasm and energy left though, especially the children who were obviously having a great time. Wouldn`t it be wonderful if we could rope them in! Actually two new people did turn up at George`s class the following Monday as a result – hope they keep coming.
AGM RESPONSES
Two points that were raised at the AGM were discussed in committee and these were:- 1. Should ladies wear white for demonstrations or would ordinary dresses be less discouraging for possible recruits? It was decided to stick with white but make a point of telling audiences this is for demos only. 2. Should an attempt be made to start a children`s class? It would certainly be great if we could but there was a children`s class a year or two ago which failed for lack of support. It was not thought practicable to make another attempt at the moment.
BINGOLOTTO
The RSCDS have asked us to tell you about a new game on Virgin 1 called BingoLotto. It is part of a fund raising scheme which will benefit the CCPR of which the RSCDS is a member. Tickets are available at every Tesco till point and, in addition to the chance of winning prizes, you would be contributing something indirectly to the RSCDS.
RSCDS WEBSITE ACCESS
If you have occasion to access the RSCDS members website you will need to know, if you don`t already, that the login name is "advance" and the password is "retire".
NEW PILLINGS
These are available now from our secretary, Alex Lawton, price £6.50. His phone number is in the letter heading.
Saturday 21st November starting 7.30pm

OAKLEY VILLAGE HALL

MC Margaret Pell

| | | | |
| --- | --- | --- | --- |
| Reel of the Royal Scots | R | Rest and Be Thankful | R |
| Tribute to the Borders | J | Hamilton House | J |
| Neidpath Castle | S | Dalkeith`s Strathspey | S |
| Spiffin` | J | The Sailor | H |
| Pulling Bracken | R | Machine Without Horses | J |
| Monymusk | S | Rose of the North | S |
| Peat Fire Flame | R | Good Hearted Glasgow | J |
| | | | |
| Extra: | | Pelorus Jack | J |

Entrance: £2.50 + a plate of food.
Link to Crib Sheet
---
Web pages on the Bedfordshire Branch site:
This page was updated on 7 November 2009.