NEWS FROM CAROL
Hi to all of you. Keith has been kind enough to send along electronic copies of the Bedford Branch newsletter so I have been able to keep updated and feel a continuing connection. Thank you Keith.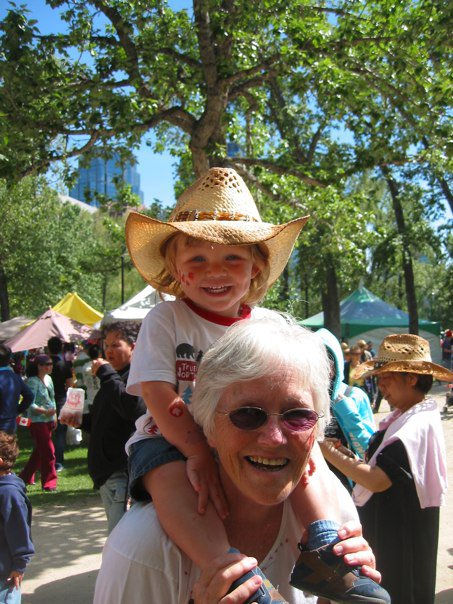 I am still settling here in Calgary. It has been a L-O-N-G process and some days I wonder if the sorting and organizing will ever end. First I had to prepare to leave Bedford, which entailed making decisions about what could be taken with me and what had to be left behind. Upon our arrival in Calgary, Peter and I established ourselves in an apartment with our daughter, Janette, while we settled and searched for a home. More organizing there. In the meantime, we also had to clean and sort out our belongings in our condominium in Edmonton so we could put things into storage and sell the condo. That accomplished by January, we set about locating a home here in Calgary and finally settled on a townhouse condominium in the same neighborhood where the grandkids live. (New address: 55 Toscana Gardens NW, Calgary, Alberta, Canada, T3L 3C2). With the move in April the sorting and organizing commenced again, but was short lived because I was running low on enthusiasm. Knowing that I had the summer off, I just made enough room and tidiness to live comfortably until then. With the arrival of July, the organizing began in earnest with building of shelves and emptying of boxes. In mid-July we traveled to Edmonton with a U-Haul moving truck to collect our belongings from the storage locker and put them in our garage. The place has been in chaos ever since as we again sort, discard and find places for everything. Every time we've moved, we've had to make choices about what we will get rid of. And, as we are moving the contents of a 4-bedroom house into a two- bedroom town house, the discarding goes on. Hope I can get it all done and the garage empty enough to put the cars back in by the time the snow flies. The moral of this story. Get rid of all your junk.
Once in Calgary I set about recreating the life I had in Bedford. By the end of November, I had connected with the rowing club. Needless to say, there is no rowing in Calgary during the winter, but I was able to train throughout the winter with a welcoming group of rowers on ergometers and in an indoor rowing tank. At the beginning of May we were out on the water, and, while rowing on a reservoir can't begin to compare with the Ouse with its beautiful Embankment, graceful swans and picturesque bridges, it has been wonderful to be out on the water in the sun. There is a heritage park along the edge of the reservoir and Sunday morning we are treated to the chugging and whistles of the steam train as it makes its rounds. And, if we get a little careless, we have to row like crazy to get out of the way of the paddle wheeler.
In January, I joined one of the four SCD groups in Calgary. As one would expect with any SCD group, I was welcomed warmly and made to feel at home immediately. The group consists of beginner to advanced dancers and there are generally enough for 3 sets. The dances are arranged so they become progressively more difficult as the evening progresses and the beginners generally watch or go home after tea. They are a lovely group of people, but I'm afraid I miss the hilarity of Andy's class. I have also been involved in two demonstrations at multicultural events and will be dancing at the Calgary Highland Games the first weekend in September.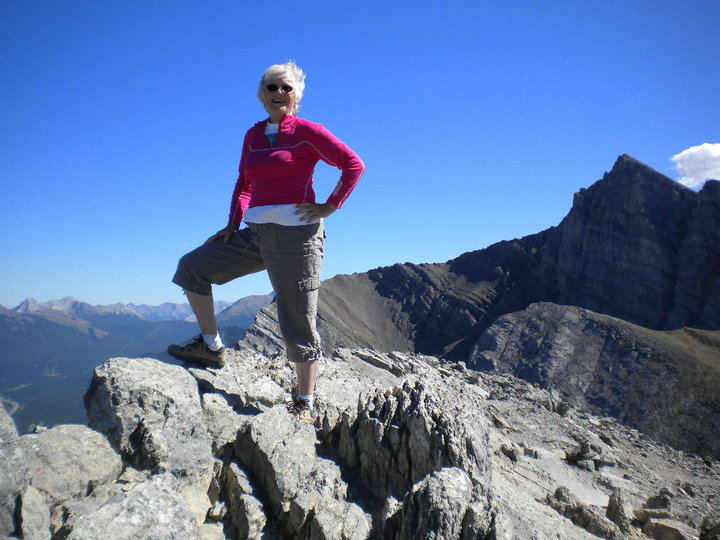 Calgary is situated a short 1 hour drive from the Rocky Mountains and we are privileged to be able to be able to take day trips to this glorious natural wilderness. Yesterday, My daughter Janette and made the 3 hour climb to the top of one of the peaks. It was just difficult enough to tax my reserves and make me feel like I had accomplished something by reaching the top – even if it was only overcoming my fear of falling off the mountain on the way down. The view from the top was spectacular and made the grueling climb worthwhile.
I started working in January with a non-profit organization. My role is called Family School Liaison and I work with children who are not achieving in school because of emotional, social, behavioral or family problems. I enjoy my work thoroughly and look forward to getting back next week.
Hope you are all well as you start the new dance season. I miss all the wonderful friends and acquaintances I met through dancing in Bedford.
BRAIN EXERCISE
WHO AM I ?
A
S
D
F
S
E
C
N
A
D
G
N
I
S
I
V
E
D
Q
G
W
E
E
C
O
O
P
E
R
O
F
F
I
F
E
G
H
L
J
N
C
O
D
E
B
R
E
A
K
E
R
K
L
Z
X
C
V
O
B
I
U
R
X
W
A
S
H
I
N
G
T
O
N
P
Q
W
E
G
T
C
T
G
Y
D
O
B
E
M
O
S
F
D
S
A
O
R
I
F
Y
N
T
O
E
P
O
L
H
A
R
R
O
W
B
U
R
N
Z
O
U
A
Y
S
A
F
T
Q
C
K
I
D
L
E
M
N
B
V
P
K
K
D
S
P
R
Q
M
O
O
N
D
A
N
C
E
S
A
T
J
C
E
H
A
J
N
Q
B
P
G
N
A
N
N
E
B
E
I
R
I
A
N
S
R
L
P
H
O
I
K
R
A
P
Y
E
L
H
C
T
E
L
B
I
K
K
U
C
Y
N
T
R
A
R
O
S
E
T
R
E
E
D
R
T
E
N
I
G
M
A
A
S
D
P
F
G
H
J
K
L
Z
R
I
T
S
E
Q
P
I
P
H
F
S
A
H
U
G
H
F
O
S
S
D
O
G
W
D
Y
M
A
J
G
D
P
O
E
N
L
I
M
B
J
G
C
A
Y
L
L
E
J
G
N
I
R
A
O
R
N
B
V
C
X
E
S
W
O
I
C
O
E
K
F
U
G
A
L
F
E
R
G
U
S
Q
E
E
R
L
B
V
B
W
A
L
E
T
I
H
W
N
A
M
R
O
N
R
B
Y
N
C
O
D
E
A
N
D
C
I
P
H
E
R
T
R
W
T
O
S
U
X
K
Z
L
J
O
H
N
M
C
A
L
P
I
N
Y
Y
R
L
A
D
F
O
N
W
O
T
S
N
H
O
J
T
S
U
I
The Man
Born 1902 in …
Worked at …
Profession
Joined this government school
Worked on …
Retired in 1953 from … – initials only
After the war worked for a time in …
Tribute by John Drewry, The …
Died here in 1971
Demo dance
Hobby
Hobby
A few of his compositions (15) in addition to the one above.

No spaces between words.
"The" omitted if in dance title.
NOVEMBER SOCIAL
Sunday 14th November starting at 8.00pm

OAKLEY VILLAGE HALL

MC John Mullett
| | | | |
| --- | --- | --- | --- |
| White Heather Jig | J | Ship of Grace | S |
| The Montgomerie`s Rant | R | The Sailor | R |
| The Garry Strathspey | S | Dundee Whaler | S |
| J B Milne | R | The Reel of Mey | R |
| The Duke and Duchess of Edinburgh | R | The Robertson Rant | S |
| Up in the Air | S | Duke of Perth | R |
| Just as I Was in the Morning | J | Ian Powrie`s Farewell | J |
| Hamilton Rant | R | | |


Entrance: £2.00 Members £2.50 Others
Link to Crib Sheet
---
Web pages on the Bedfordshire Branch site:
This page was updated on 29 October 2010.