SPANISH HOLIDAY - Helen and Keith Rose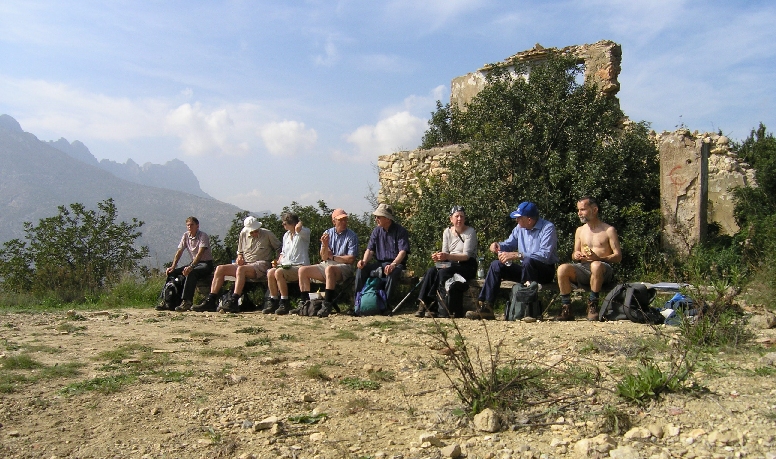 Lunch stop on walk around Sierra de Olta
Lunch stop on walk around Sierra de Olta Whilst at the Cottesmore Dance Weekend in Rutland last September we were asked if we would like to join a Leicester group for a DIY week in Calpe on the Costa Blanca, dancing in the evenings to CDs and walking/sightseeing during the days. Googling Calpe soon showed the potential of this area for walking, so we said yes. The trip was the idea of George Shepherd. We all booked our own flights from a variety of airports and airlines but all landing at Alicante on the same morning. George booked all the accommodation and coaches, each of us suggested 7 dances, Doris Buchanan sorted these out into programs for each evening, Greg sorted out the music CDs, Keith prepared crib sheets, and a rota of MCs was drawn up.
We landed in Alicante on a very grey and wet February morning and were relieved to meet the other 42 dancers/partners in the arrivals lounge. Luckily the weather soon cleared and it was warm and sunny for most of the rest of the week.
We danced in a generously sized ballroom. After the first evening the hotel put out tables for us and opened up the bar in there. Two of the young waiters watched with interest and were persuaded to join in one of the ceilidh dances. These had been put on the programme for the benefit of the non-dancing spouses. There was often a small group of curious spectators, other guests and staff at the hotel, who popped in to see what Scottish dancing was like. There were 14 dances on the programme each evening, with a short break in the middle. Because everybody had suggested their favourites, most dances were well known and not many needed to be taught. The biggest problem was dancing on a full stomach immediately after the generous hotel buffets.
During the day, George had organised two optional coach trips to places of local interest such as markets, both general and fish, spectacular old inland hilltop towns, waterfalls and a bodega. Two walks were also led into the local hills. They proved very popular and were a lot of fun.
On the last evening we held a ceilidh and invited a ballroom dancing group who were also on holiday in the same hotel. We all had an enjoyable evening and we learnt some new dances. At the end of the evening, the ballroom dancers commented on how energetic they had found Scottish dancing to be.
All too soon it was time to board the bus to return to Alicante airport. We really enjoyed our week in Calpe, and were ready for a rest at home.
APRIL SOCIAL DANCE
Sunday 6th April starting at 8.00pm
OAKLEY VILLAGE HALL
MC Marion Oram

PROGRAMME
| | | | |
| --- | --- | --- | --- |
| J B Milne | R | A Trip to Bavaria | R |
| Megan`s Favourite | J | Quarries Jig | J |
| Leaving Lunga | S | Gang the Same Gate | S |
| The Snibbet Bibliotheck | R | The Floosie in the Jacuzzi | R |
| Gothenburg`s Welcome | J | Chalmer`s Hall | J |
| Culla Bay | S | Blue Mess Jacket | S |
| John of Bon Accord | R | The Montgomeries` Rant | R |

Extras: Lady Sophia Lindsay R Brisk Young Lad J

Entrance: £1.50 members £2 others
SUMMER BALL
Saturday 17th May 2008
starting at 7.30pm
with
The Danelaw Band
Dame Alice Harpur School, Cardington Road, Bedford

PROGRAMME
| | | | |
| --- | --- | --- | --- |
| Jennifer`s Jig | J | Bratach Bana | R |
| Inverneill House | R | Kinfaun`s Castle | S |
| Belle of Bon Accord | S | Quarrie`s Jig | J |
| Pines of Pitlochry | J | Festival Fling | R |
| Fisherman`s Reel | R | Garry Strathspey | S |
| Silver Tassie | S | Diamond Jubilee | J |
| Luckenbooth Brooch | J | Starlight | R |
| Molly`s Mum | R | Dundee Whaler | S |
| Johnnie Walker | M | Spiffin` | J |
| John of Bon Accord | R | Mairi`s Wedding | R |

Extras: Bees of Maggieknockater, Montgomeries' Rant, Shiftin Bobbins
Tickets: £15.00, Children and Spectators: £7.50 (Includes Supper)

Please Apply with SAE. to: Alex Lawton 9 Willington Rd Cople Beds MK44 3TH
Tel. 01234 831036
---
Web pages on the Bedfordshire Branch site:
This page was created on 18 March 2008.