SUPPER DANCE REPORT
The recent Supper Dance turned out to be one of the best socials we have had for a long time. There were eleven couples for most of the evening which meant one set of seven couples causing a few minor panics and a good deal of hilarity.

Marion`s programme was particularly interesting and, though some dances were quite tricky, she got us through them all triumphantly! So a great time was had by all in spite of a minor crisis in the kitchen by way of a non-functioning urn. As an evening without tea would be unthinkable we managed to collect enough kettles to cope and all was well.
BALL HELPERS
As you must know the committee and ball helpers have been dwindling in number for the last few years and has now almost reached crisis point. So if anyone could spare an hour or so on the afternoon of the ball to help set up or would be willing during the evening to help with the supper arrangements or clearing up afterwards we would be most grateful. Please have a word with any of the committee who will reassure you that no huge demands will be made.
DANCING IN SPAIN – Helen and Keith Rose.
In 2008, Helen and I joined a group from Leicester for a week of Scottish Dancing, walking and sight-seeing in Calpe. This turned out to be a really good week, so when we heard that they were going to repeat the holiday we were quick to book our places. Numbers were up this time, with the catchment area stretching from Bedford to York.
This year, the holiday was to Nerja at the Eastern end of the Costa del Sol for one week at the end of February. Our hotel had a large marble floored conference room which we used as a ballroom each evening. The programme of dances was compiled from everybody's favourites and we danced to CDs. During the day we were free to enjoy to local sights.
Nerja is nestled between the mountains and the sea. The local peak, Cielo, which is higher than Ben Nevis, is made of limestone, so, not surprisingly, there are caves in the foothills. The local cave is a major tourist attraction, so we headed there on our first, rainy, morning. The size of the chambers and quality, size and number of the features was amazing. Later in the holiday we were to see much damage to fields and roads caused by heavy rains this winter, the caves were evidence that this has been going on for very much longer.
From the caves we could access a network of footpaths leading up into the mountains. We had several forays , enjoying the scenery, some sunshine and the spring flowers.
The group had organised a couple of coach trips, one to the Alhambra palace in Granada, the other to Ronda. Many of us also tried a local bus ride to the white hill-top village of Frigiliana, popular for its narrow streets, bars and cafes, and in summer for tourists trying to escape the heat. Needless to say, Keith found a couple of walks leading off into the hills from here.
We invited members of the local Scottish dance group along to our hotel and greatly enjoyed learning "A Trip to Nerja" which one of them had devised.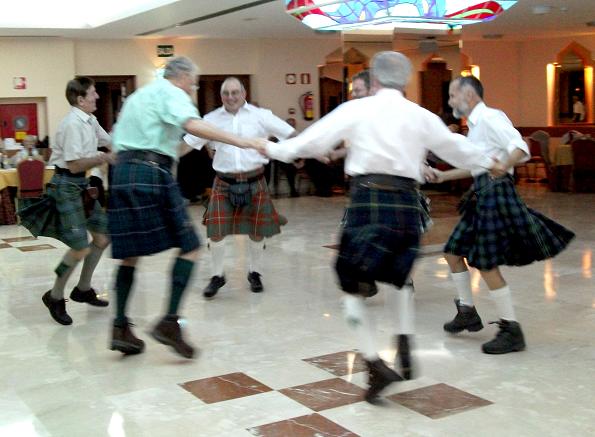 The last night's dancing took the form of a ceilidh. Several sub-groups had been busy practising during the week and performed their plays/poems/dances for the whole group. Keith offered to dance the Highland Fling, and also got roped in for an all male "Reel of the 51st Division" which was danced in walking boots.
As everybody else headed back to the wintery UK, we stayed on in Spain for a second week. We spent another day in Nerja which enabled Keith to finally get to the top of Cielo. We then drove to Cordoba, on to Seville and then down to the Doñana National Park on the Atlantic Coast just North of Cadiz.
Summer Ball
Saturday 15th May 2010 at 7.30pm

Dame Alice Harpur School, Bedford

Ian Robertson and his Band
| | | | |
| --- | --- | --- | --- |
| Pelorus Jack | J | Moray Rant | S |
| Bratach Bana | R | Gothenburg`s Welcome | J |
| Gang the Same Gate | S | Clutha | R |
| Diamond Jubilee | J | Mrs Milne of Kinneff | S |
| Black Mountain Reel | R | Flight of the Falcon | J |
| Glen Clova | S | Trip to Bavaria | R |
| Napier`s Index | J | Wind on Loch Fyne | S |
| Ray Milbourne | R | MacLeod`s Fancy | J |
| Autumn in Appin | S | Miss Johnstone of Ardrossan | R |
| Seton`s Ceilidh Band | J | Bees of Maggiknockater | J |
Dancers £15.00, Children & Spectators £7.50
Link to Crib Sheet
AND FINALLY:-
Something to exercise your little grey cells and tickle your sweet tooth.
All answers to be found in a sweet shop (e.g. Wise guy = Smartie)

| | | | |
| --- | --- | --- | --- |
| 1. | Where refined people live. | 11. | Aromatic weapon. |
| 2. | Edible fasteners. | 12. | Royal herb. |
| 3. | For job well done. | 13. | Mother`s local |
| 4. | 9 10 11. | 14. | Endurance race. |
| 5. | Home for Alcoholic`s Teeth. | 15. | Nearly between. |
| 6. | Fallen Fruits. | 16. | Pirates loot. |
| 7. | Sport for princes. | 17. | Belly dancer. |
| 8. | 100% metal. | 18. | Current affairs. |
| 9. | Tartan Granite. | 19. | No shouting allowed. |
| 10. | Seen on a race course. | 20. | Two tiers on wheels. |
Extract from "The Civil Service Pensioner". Answers in next newsletter.
---
Web pages on the Bedfordshire Branch site:
This page was updated on 8 April 2010.